The importance of sound in virtual reality
Sound Object is an audio agency specialized in sound design and music for immersive experiences in virtual reality or augmented reality. We have recently given multiple conferences on the Sound of the Metaverse at LEV Festival in Madrid and GM Barcelona – Web3 Event and gave a class to students in the masters of VR design at IED Barcelona. Here are some of the key takeaways from these conferences.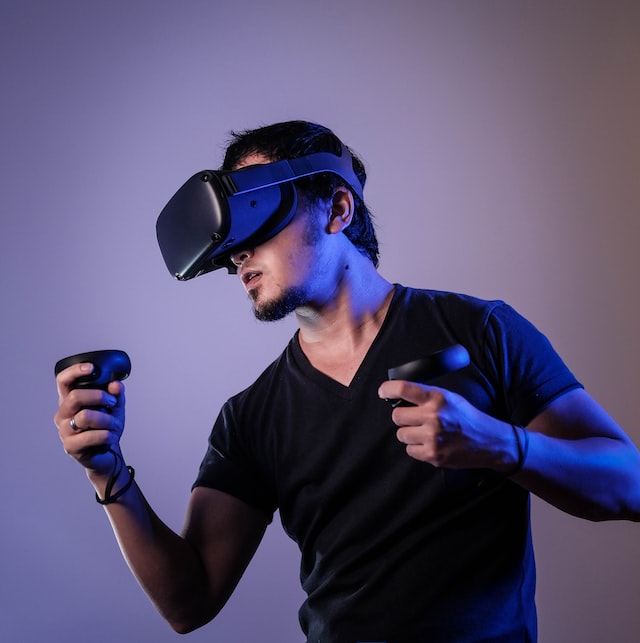 There are numerous applications where audio is crucial in virtual reality, most notably entertainment, sports, education, events or healthcare. Let's explore what well-produced audio can bring to these Metaverse experiences.
Entertainment
The most common application of immersive experiences in the entertainment sector is obviously video games. The video game industry is constantly evolving and wether we are talking about small indie studios or AAA studios, all parts of the industry are now investing a substantial amount of resources into VR.
It is also worth noting that we have seen an increase in the number of film and documentary contents specially produced for VR.
For entertainment experiences, a carefully designed sound and an enticing music bring narrative support, realism and help convey emotions. All these elements allow the player or the viewer to follow more carefully the game or the story thus participating in a more inviting and memorable experience.
Sound Object produced music and sound design for Somnium a VR video game presented during Sónar Festival in Barcelona
Sports
The Covid-19 pandemic and its subsequent lockdowns dramatically increased the demand for sports video games because more and more people want to practice physical activities from the comfort of their home.
Consequently, sports video games for VR are rapidly expanding because studios see in the Metaverse an opportunity to attract a new kind of players with a more sporty profile.
In these games, the audio aspect is fundamental because a well-crafted sonic and musical production brings dynamics, a sensation of power and speed that increase motivation and player's performance.
Sound Object produced music and sound design for Les Mills Bodycombat, a fitness virtual reality game for Meta Quest 2 (formerly known as Oculus Quest 2). For this project a special attention was given to the sound of the punch which was a key element to the success of this immersive game.
Education
In recent years we have seen an increase in the number of cultural and educational experiences notably because of the emergence of digital arts galleries. These new high-tech museums where visitors can stroll around in immersive rooms or enter digital world through VR are popping up in every major cities across the world (Frameless in London or Hall des Lumières in NYC for example). Some of the most acclaimed experiences give life to the heritage of some of the world's most famous painters such as Claude Monnet, Frida Kahlo or Salvador Dalí.
This type of content allows the audience and particularly children and teenagers to access a new way of learning and discover culture in a new way.
This experiences in VR will probably help remove some of the social barriers for those who are not able to access the big cities and their museums.
In educational and cultural experiences, good audio and well-produced music help highlight some of the key moments of the content and guide the visitors throughout their experience. Ultimately resulting in a more memorable educational journey.
We were lucky enough to produce sound and music for Dreams, an incredible multi-user virtual reality experience where users can stroll around and interact in a 200m2 open space. "Dreams" ambitions to be a Metaverse for locations such as museums, cultural institutions, event or exhibitions spaces.
Events
The event world is also evolving fast and wether it is for promoting a brand, a company or a product, everybody wants to include some form of mixed reality in the experience.
A custom sonic identity with a perfectly calibrated music allows the brand to be instantly recognized and can dramatically increase the brand-perception on collaborators and potential clients.
Sound Object was lucky to create the music and sound design of an immersive experience showcased at the Cupra Impulse corporate event at the F1 racetrack in Sitges.
During the event, Cupra's CEO Wayne Griffiths unveiled the brand's direction for the next decade in the form of the UrbanRebel electric vehicle.
The audience was able to feel the emotions of driving the UrbanRebel by watching a film through a VR headset. Mixing realistic graphics and sci-fi environments the Virtual reality trip was experienced by all 600 attendees simultaneously. The audio effects allowed to sell the realism of the film while the music conveyed the emotions and gave rhythm to the narration.
Credits: Blit Studio.
Healthcare
Healthcare experiences such as mindfulness meditation apps are particularly interesting because they have been proven to help with physical and mental health of individuals.
These experiences can be used to reduce stress, anxiety, physical pain and even for palliative care in some hospitals.
Sound and music are obviously absolutely essentials in these types of experiences because they deepen some very important, even vital emotions (sense of calm, inner peace).
This year, we had the opportunity to be part of Virtuality Paris and Laval Virtual, immersive and Web3 events. We were able to interact with some very creative and ambitious people all testifying for the dynamism of this industry. A company particularly caught our attention, HypnoVR. They offer relaxations applications for the medical sector.
Conclusion
The importance of audio in VR, AR and XR is still very much understated. Sound is not an expendable element but rather contributes to at least 50% of the experience.
The better the audio is produced, the more immersive the experience will be making the audience more impressed and the client more willing to interact with the company.
CONTACT US
In need of the best sound for your VR experience or video game?