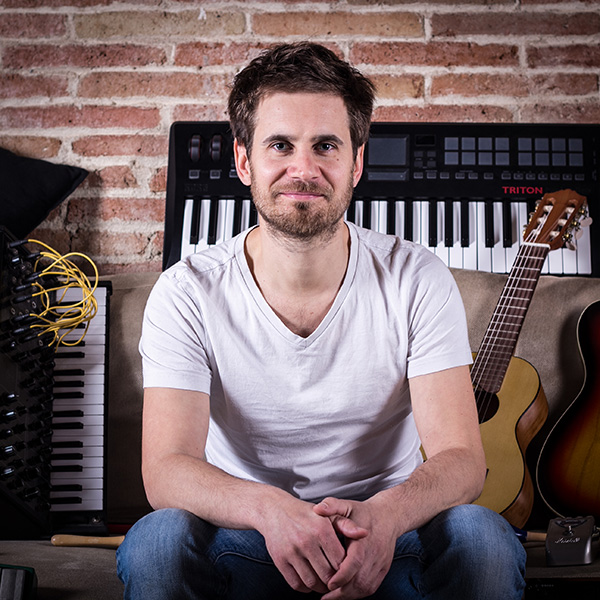 Thomas Aussenac
Sound designer & music composer
After graduating from the Ecole Nationale Supérieure des Télécommunications (Télécom Paris), I worked for 4 years as a computer music research engineer at the Music Technology Group of Barcelona (famous for the Reactable).
For 6 years, I have worked as a freelance web and mobile app developer. I had the opportunity to work for large companies such as Arsenal Football Club, Canal+ or Engie.
Since my early 20s, in parallel to my technical career, I have dedicated myself to singing and songwriting. I released several records, as a solo artist and with a band, which have been reviewed in several magazines like Les Inrockuptibles (France), Magic RPM (France) and GoMag (Spain).
Finally, I am a professional voice-over artist, working with several dubbing studios since 2009. I was the voice for the main characters of multi-award winning movies such as "Victoria" (2015) or "It Follows" (2014).
In 2014, I decided to combine my skills and my passions to become a sound designer and musical composer. I created the brand Sound Object in 2017, in tribute to the concept of "objet sonore" coined by one of the masters of concrete music, Pierre Schaeffer.
Arthur Vincent
Sound designer & music composer
After graduating from SKEMA Business School, I moved to New York City to work in the music and video industry. I then spent 2 years working in Sydney, building my music and sound portfolio with some of the best local boutique agencies.
Today, I specialize in audio branding and music composition with a soft spot for electronic textures and detailed field recordings.
I believe that, just like images, sounds have colors, shapes, harmonies, and identities. This is why your brand, your film, your video game or anything that has value to you needs to benefit from high-quality audio and well-produced compositions.
To make it simple, think of me as a graphic designer, only for sound.